On the Road with The Copernicus Legacy!
October 15, 2014
Back on the road, Tuesday, October 14, was a travel day that took me from my home in Connecticut to Atlanta, Georgia! Today I'm visiting the Galloway School and the Webb Bridge Middle School in Alpharetta! This afternoon I'll be at the Peachtree Rd Barnes & Noble at 6 pm talking about THE COPERNICUS LEGACY! Check back for my report tomorrow, after I fly off to northern California!
October 12, 2014
My darling wife Dolores and I traveled to New York City for Comicon on Sunday, October 12, where I spoke on a panel about the influences of Star Trek and Star Wars in my work! Dolores was moved to tears when she caught a glimpse of LeVar Burton, who was there because of his Star Trek role of Geordi LaForge, but who Dolores appreciates because of her many happy hours spent with our daughters watching him host Reading Rainbow!
Plus, I met a Dalek from the Doctor Who series! Exterminate!
October 9, 2014
4:30 am! that's what time I left for the airport to travel to Austin, Texas! Austin is a special place for me, not just because of the amazing librarians, teachers, and readers, but because that's where The Copernicus Legacy adventure begins. The four friends–Lily, Darrell, Becca, and Wade–are in Austin when they get that first mysterious communique from Uncle Henry. The rest is history! Ongoing history!
In the morning I visited Perez Elementary School. The kids there were so smart and fun—AND the choir performed original songs from The Secrets of Droon, composed by the choir leader (thank you!!!). It was so touching. It brought a tear to my eye!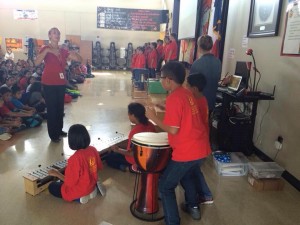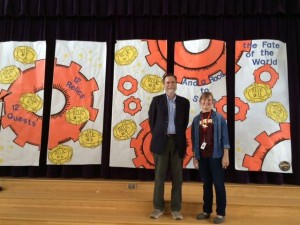 Thanks to librarian Randi Sather, seen here in front of the rather awesome COPERNICUS sign on the stage!
Next, I visited Widen Elementary in Austin, where I had a completely extraordinary time with the 3rd, 4th, and 5th graders, talking about THE COPERNICUS LEGACY. I'll say it again: Austin is so amazing! Go Widen!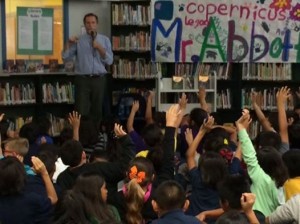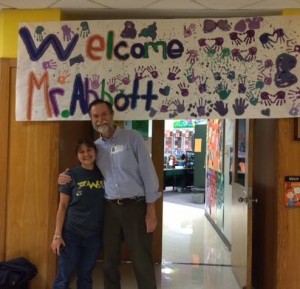 Here I am with the fabulous Amy Gibbs, the librarian at Widen Elementary in Austin.
One big heartfelt thanks to Ellen Greene and Topher Bradfield from BOOKPEOPLE for handling book sales in Austin! They were real book folks, befitting the largest indie bookstore in Texas (and you know, everything in Texas is big to begin with!).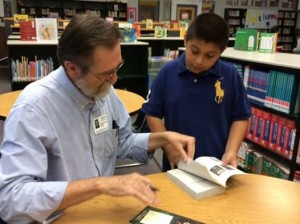 October 8, 2014
Whoa, yesterday! The launch day of THE SERPENT'S CURSE began with a visit to the fabulous Totoket Valley Elementary School, in Northford, CT. These 3rd to 5th-grade kids, I tell you, are so smart and fun—and they are amazing readers, with so many class winners of their Summer Reading contest! We gave out prizes. My prize was talking with them about The Copernicus Legacy! Many thanks to Carrie Seiden from Totoket and Karen Rosenthal from RJ Julia Booksellers, who handled the book sales!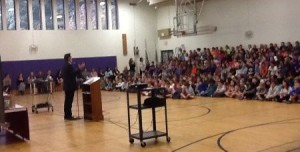 My second visit of launch day was to Abraham Pierson School in Clinton, CT, where Emily Kelsey was my fabulous host. Yet another school with funny, kind, smart students who love to read and talk about books. Folks, we are in good hands with kids like the Pierson students! Here I am with Emily Kelsey. Thanks again to RJ Julia Booksellers for handling the book signing at the school!
Follow Tony Abbott on:
Facebook
Tony Abbott
Promote Your Page Too
Twitter
Tweets by @TonyAbbottBooks
Pinterest
Tony Abbott