Books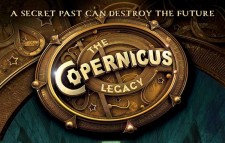 The Copernicus Legacy
(Katherine Tegen Books, an imprint of HarperCollins Publishers, 2014) Available now.

12 Quests. 12 Relics. And a race to save the fate of the world.
It all began when four friends—Wade, Lily, Darrell, and Becca—received a strange, coded email from Wade's uncle Henry shortly before the old man's sudden death. They set off for Germany to attend the funeral with Wade's father, Roald, and discover that Uncle Henry left them yet another baffling message that they suspect is the key to figuring out how and why he died.
The more clues they discover, the farther they travel down a treacherous path toward an ancient, guarded secret. Soon they are in a breathless race across the globe, running for their lives as a dangerous shadow organization chases them. Their only hope of saving themselves—and the world—is to find twelve magical relics from a hidden past and unlock the Copernicus Legacy.
The Forbidden Stone is the beginning Tony Abott's epic middle-grade series, a thrilling adventure packed with puzzles, intrigue, and action.
But wait! There's more:
Find a relic in each one of the six full-length novels

Find a relic in each one of the six interstitial novellas
Enter a sweepstakes to win a trip to New York City, where four winners will participate in a real-life relic hunt based on the plots of the books. Tony Abbott will lead the winners on their exciting mission!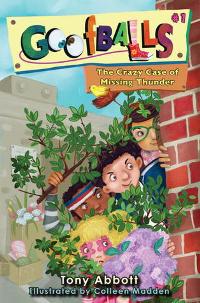 Goofballs
(Egmont USA, 2012, 2013), ongoing series
Jeff, Mara, Brian, and Kelly are Goofballs and proud of it. Goofball private eyes. Together, they solve mysteries.
"Everyone wants to be a Goofball in this little town, and readers will want to follow their cases in the future. That #1 on the spine ensures that there will be many more adventures from these goofy friends." —Kirkus Reviews
"Targeting readers who like a lot of humor with their mysteries, Abbott includes a great deal of wordplay and slapstick, and stretches the goofball joke to its limit (Jeff's dog even barks, 'Goof! Goof!'). Madden's cartoons add to the fun, and Abbott's clipped, dialogue-driven text is accessible for beginning readers and creates just the hint of a noir atmosphere." —Publishers Weekly
"The plot moves along quickly from clue to clue, enabling readers to test their own powers of deduction…. Bold black, white, and gray illustrations appear on almost every spread. Illustrations also suggest the multiracial make-up of the Goofballs. The humor consists of mostly pratfalls (tumbling into doorways, getting stuck in a chair) and puns ('don't leaf me here'), but early chapter book readers will enjoy this combination of mystery and silliness." —School Library Journal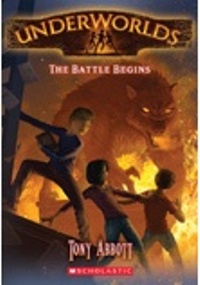 Underworlds
(Scholastic, Inc., 2011, 2012), a series in four installments
"Looking to feed the insatiable appetite of mythology-mad readers comes a new series that brings the legendary characters up close and personal, especially for four elementary students who face off against Greek and Norse monsters.
Owen realizes the day is unusual when his friend, Dana, gets sucked through the school floor while a voice hisses, 'The… battle… begins…' Owen teams up with Jon and Sydney to rescue her, and, with the help of Bulfinch's Mythology, they begin a surreal adventure with mythological beasts come to life. They discover that one of the entrances to the Underworld is in their school basement and that all the Underworlds, one for every branch of mythology, are linked. Moreover, the creatures are escaping. Armed with the Lyre of Orpheus, which, when strummed, gives Owen the power of persuasion, they make a deal with Hades, who gives them a chance to find Dana. They do battle with the likes of Cerberus, Myrmidons and Loki. Hades, however, is a double dealer who ups the ante: They are forced do his bidding or lose Dana forever—which becomes the catalyst for the next installment. Intricate black-and-white sketches of mythical monsters and maps enhance this lean and lively tale.
A quest just right for readers on the cusp of Percy Jackson." (Adventure. 7-10)
—Kirkus Reviews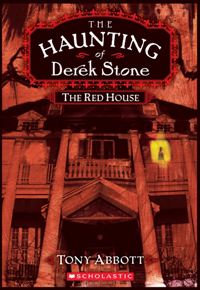 The Haunting of Derek Stone
(Scholastic, 2009), a series in four installments
"Don't be fooled by the brevity of these novels. Derek Stone's story is dark and surprisingly intense. Abandoned by his mother, Derek somehow survives a freak train accident that kills his remaining family. After the crash, he's haunted by the voices of the dead, and when his late brother reappears, it's clear that something supernatural is afoot. City of the Dead (book one of "The Haunting of Derek Stone" series) concerns itself with world building. The real action starts in book two, Bayou Dogs, when Derek is on the run from angry ghosts that have been set loose among the living. Abbott has put some serious thought into understanding the divide between life and death, mixing physics and metaphysics with ease. It's a scientific-minded approach that still subscribes to a horror point of view, a novelty that I savored." —Saundra Mitchell, School Library Journal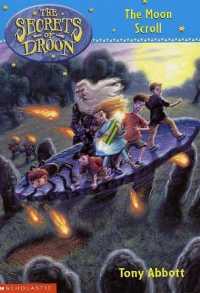 The Secrets of Droon
(Scholastic, 1999-2009), a series, 44 books, 12 million sold
Download the Secrets of Droon teacher's guide here.
The Secrets of Droon drew to a close in the summer of 2010 with The Final Quest, the longest of the 44 Droon adventures and one that sees many of our favorite characters joining to solve the biggest mystery of them all. After spending nearly half his writing life in Droon, it was been no easy thing for Abbott to say goodbye, and he knows that part of him will always be on a quest with Eric, Julie, Keeah, and Neal. One great satisfaction has been the thousands of letters and email messages he has received over the last decade. Some readers who began reading the Droon stories back in 1999 are writing to him now as young adults; some are in college; many are now fledgling writers. Honestly, eleven years in the land of Droon? He is the luckiest writer he knows.
Visit the Scholastic, Inc., Secrets of Droon page to play a Droon game and peruse the Droon encyclopedia.
Lunch-Box Dream
(Farrar Straus Giroux, 2011)
Download the Lunch-Box Dream teacher's guide here.
This is the tale of two families—one white, one black—trapped by their own and others' ignorance, driven to a single, unforgettable encounter. It is a story of North and South, of Jim Crow racism, both subtle and blatant, of guiltless victims, and of surprising tenderness.
"Abbott's true-to-life descriptions and complicated story lines set in the volatile, pre-Civil Rights era will leave readers with much to think about and discuss when considering race relations in our country's history." —School Library Journal
"Beautifully crafted and written." —Publishers Weekly, starred review
"This tale, based in part on Abbott's memories of a childhood road trip, could fuel avid classroom discussion or quiet personal reflection." —The Bulletin of the Center for Children's Books
"With every narrative turn, Tony Abbott brings these never-before-seen perspectives into view in this moving civil rights kaleidoscope. Untold. Unforgettable." —Rita Williams-Garcia, author of One Crazy Summer
The Postcard
(2008, Little, Brown)
"The plot shimmers with originality even as it evokes genre fictions. Emerson Beale's fast-paced pulp adventures, interspersed with the contemporary plot, are lusciously readable in their own right, and they ratchet up the contemporary suspense, as it's clear that the past and the present are rolling toward convergence…. The author capably wrangles these elements into swiftly turning pages and an accessible drama wherein Jason's family story [becomes] the payload of the high-spirited adventure, resulting in a genuinely heartwarming tale that's touched with regret even as it moves hopefully toward a better future." —Bulletin of the Center for Children's Books (*Starred Review)
"This book succeeds on many levels. Fans of romance and adventure will enjoy Nick and Marnie's story with its quirky characters. Jason's take on his unexpected summer adventure will engage readers who enjoy realistic fiction, especially his budding friendship with a neighborhood girl who joins him in tracking down the chapters. A less capable author could easily have confused readers with everything that is going on in this book, but Abbott weaves a fun, engaging tale that draws in readers and keeps them entertained." —VOYA
"Abbott's gift for creating complicated, realistic young characters is evident in Jason, [and] he is joined by stock characters from the pages of an old gumshoe mystery. The contrast between Jason's real adolescent angst and the cliched mystery woven throughout makes each element seem richer. The surprise ending to the mystery and the not-so-surprising ending to Jason's real-life drama are quite satisfying." —School Library Journal
The Postcard is 2009 winner of the Mystery Writers of America's Edgar Award.
Firegirl
(Little, Brown, and Co., 2006)
Download the Firegirl teacher's guide here.
"Abbott's stirring novel centers on Tom Bender, who describes himself as a 'sweaty, fat kid' who feels invisible much of the time. ('People don't really talk to me much in school or notice me…. My mother says it's because I don't "get out there."') The seventh-grade narrator's only friend is Jeff, who seems angry quite often since his father moved out. Tom has a crush on Courtney, a beautiful and popular classmate, and he imagines himself as a superhero who can rescue her from danger. But it isn't Courtney who needs rescuing. Jessica, who has been badly burned in a fire, joins their class at St. Catherine's when she moves to town to undergo skin grafts at a nearby hospital. 'I remember wondering how someone looking like that could even be alive,' Tom says the first time he sees her. None of the students attempts to get to know Jessica. Tom, too, initially keeps his distance, though he (unlike Jeff) holds her hand during class prayer time. When he brings Jessica her homework on a day she is absent, the girl poignantly opens up to him and he, in turn, shares his secret thoughts and superhero fantasies with her. Though fleeting and fragile, Tom's connection to Jessica changes his perspective on himself, his peers and friendship, and underscores the reward of reaching out to another of getting "out there." This novel may be brief, but it leaves a big impact. Ages 8-12." —Publishers Weekly (*Starred Review)
"Tom's a normal seventh-grader, negotiating a slightly prickly stage in his long friendship with Jeff…The arrival of new girl Jessica Feeney, however, changes everything; Jessica, who is attending a local hospital for treatment, has been badly burned by a fire, and her terrible disfigurement shocks the class into confusion. This isn't the usual book about adjustment to difference; instead, Abbott brilliantly explores the kids' struggle to manage the intrusion of abnormality in their lives…this is a thoughtful exploration of a brief interlude's lasting impact." —The Bulletin of the Center for Children's Books
Firegirl is 2006 winner of the Golden Kite Award
Firegirl was named a "Read Ohio" book for the 2011-12 academic year
Kringle
(Scholastic, Inc., 2005)
"In northern Britain in the early fifth century, a boy named Kringle and an old woman named Merwen live in an isolated cottage. When they are attacked by goblins, Kringle runs away, meets friendly shoe-repairing elves and pirates, and above all makes it his mission to rescue Merwen and hundreds of children. This fantasy combines magic (elven runes and flying reindeer), history (the end of the Roman occupation figures prominently, as does a certain Brother Alban), theology (Kringle is fascinated to learn about baby Jesus and his family), and a good dose of imagination to come up with a delightful explanation of the origins of our present-day Santa Claus. Fantasy readers will enjoy this tale year-round, despite the reindeer and holly on the cover." —School Library Journal
Other Series
Danger Guys (HarperCollins, 1994-1996), The Weird Zone (Scholastic, Inc., 1996-1997), Cracked Classics (Hyperion, 2002-2003), Don't Touch That Remote (Pocket Books, 1999), Time Surfers (Yearling, 2008-2009)
Follow Tony Abbott on:
Facebook
Tony Abbott
Promote Your Page Too
Twitter
Tweets by @TonyAbbottBooks
Pinterest
Tony Abbott