Home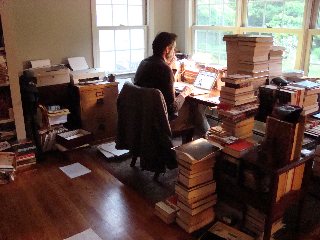 Thank you for your interest in American children's author Tony Abbott! This is Tony's official website, where you will find information about him, his books, and his writing career.
Tony Abbott is the best-selling author of over one hundred books for readers ages 6 to 14, including many series (The Secret of Droon, The Haunting of Derek Stone, Underworlds, Goofballs, to name a few) and novels for older readers, including Kringle, Firegirl, The Postcard, and Lunch-Box Dream. His publishers include HarperCollins, Hyperion, Scholastic, Random House, Little, Brown, Egmont, and Farrar Straus Giroux.
Over 12 million of Tony's books have been sold worldwide, and his series and novels have been translated into Italian, Spanish, Korean, French, Japanese, Polish, Turkish, Chinese, and Russian. Several of his books were named Children's Book-of-the-Month Club selections and Junior Library Guild selections and have appeared on state reading lists, including the Texas Bluebonnet list, and the Great Lakes Great Award Master List, and Choose to Read Ohio.
Firegirl won the Golden Kite Award for Fiction presented by the Society of Children's Book Writers and Illustrators.
In the spring of 2009, The Postcard was honored with the Mystery Writers of America's Edgar Allan Poe Award for best mystery in the juvenile category.
Follow Tony Abbott on:
Facebook
Tony Abbott
Promote Your Page Too
Twitter
Tweets by @TonyAbbottBooks
Pinterest
Tony Abbott