Home
Thank you for your interest in American children's author Tony Abbott. This is Tony's official website. Tony has written just about 100 books for young readers, including Danger Guys, The Secrets of Droon, Firegirl, Kringle, Postcard, Lunch-Box Dream, Underworlds, Goofballs, and many more. His newest series is The Copernicus Legacy.
From Tony's Desk:
ON THE ROAD WITH INDIE BOOKSELLERS!
From June 2 through 6, my wife Dolores and I traveled 778 miles, visiting ten independent bookstores, four elementary and middle schools, and two public libraries in Eastern and Western Massachusetts—a whirlwind book tour that opened my eyes and gladdened my heart. I don't know how many books were sold, or will be sold, but what I do know is that in the face of a mounting assault on books and bookstores by popular culture and big business, a legion of smart and committed book people are out there fighting the good fight, striving to keep people reading… (READ MORE)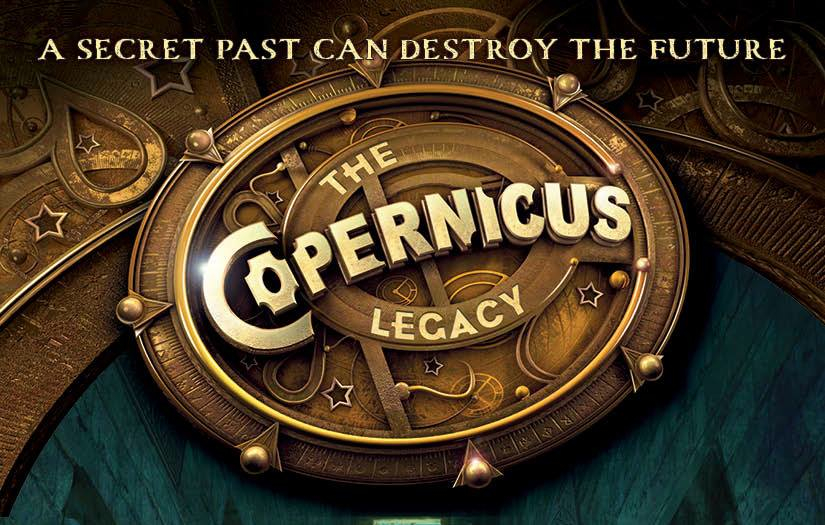 Tony Abbott's newest series is The Copernicus Legacy, published by HarperCollins Children's Katherine Tegen Books. The Forbidden Stone is the first book in the new series, and it is available now in book stores everywhere. It's a fast-paced middle-grade thriller in which smart young characters travel the globe on a mission to solve a mystery using their personal talents and teamwork.
The Copernicus Legacy has everything middle-grade readers love: an international adventure, a compelling friendship story, and a mission that draws on history and astronomy. Readers who loved Percy Jackson will be eager to follow our heroes on this six-book, six-novella journey and excited to enter a sweepstakes to participate in a real-life scavenger hunt hosted by Tony Abbott that lets the reader become part of the story.
Click on the logo (above) to visit the series website (www.thecopernicuslegacy.com). There you'll find a free educater's guide, a free star map poster, games, videos of Tony talking about the series, and information about entering a sweekstakes to win a trip to New York City and take part in a real-life relic hunt.
The Copernicus Legacy is a six-volume adventure series. A companion series, The Copernicus Archives, provides personal insight from six of the characters' points of view. These six shorter novellas are being published in paperback between the longer hardcover novels. The first will be issued in September 2014, and it is from character Wade Kaplan's point of view; it's called, Wade and the Scorpion's Claw. The next big book, The Serpent's Curse, will be published in October.
What people are saying about The Copernicus Legacy book #1: The Forbidden Stone:
"I had to keep reminding myself THE COPERNICUS LEGACY was intended for a young audience. Full of mystery and intrigue, this book had me completely transfixed." —Ridley Pearson, author of The Kingdom Keeper series
"A sprawling and fast-paced adventure in the great tradition of Robert Ludlum, Ian Flemming, and other masters whose tales loom larger than life. Readers are in for a real treat." —David Lubar, author of Flip, Wizards of the Game and Hidden Talents
"The Copernicus Legacy takes you on a fantastical journey that is as eye-opening as it is page-turning. With mysteries hiding behind secrets coded in riddle, this book is like a Dan Brown thriller for young readers." —Angie Sage, author of the Septimus Heap series
"The Copernicus Legacy has it all: A secret code, priceless relics, murderous knights, a five hundred year old mystery, and a story full of friendship, family, humor, and intelligence. A masterful storyteller, Tony Abbot better be writing quickly because I can't wait for Book 2!"   — Wendy Mass, New York Times Bestselling Author
"Tony Abbott is such an amazing storyteller, Copernicus should've named a star after him. With codes to crack, clues to unravel, and bad guys to outrun, this is one thrilling, smart, and fun read! I can't wait for the next chapter in this stellar new series."— Chris Grabenstein, New York Times Bestselling Author
Click on the "Books" page in the menu above, to read more about this exciting upcoming series!
WE <3 INDIE BOOKSELLERS!
We hold independent bookstores and booksellers in high esteem and enjoyed meeting many of them at trade shows this autumn in New Orleans and Chicago. Here's a link to help you find an independent bookstore near you: FIND AN INDIE BOOKSTORE! 
Check out this cool video: IT'S A BOOK!
Follow Tony Abbott on:
Facebook
Tony Abbott
Promote Your Page Too
Twitter
Tweets by @TonyAbbottBooks
Pinterest
Tony Abbott